How to Make a Donation
Only With Your Help
     Only with your help can we continue to improve the quality of life for New Jersey families touched by cystic fibrosis. Only with your help can we give a child with CF a fighting chance to run and play like other kids, get an education and live a productive life as an adult.
     There are several ways that you can donate needed dollars to NJSOCF: by sending a payment directly to us, or donating through your employer via the United Way or their matching gift program.
ON-LINE GIVING
Making an on line donation to NJSOCF is simple, convenient and secure.
Click the "Donate Now" button below to go to our page.
---
---
MEMORIAL GIFTS
     A memorial gift to NJSOCF makes a lasting tribute to a departed loved one. Or a special occasion gift can be used to celebrate birthdays, anniversaries, and even given in place of wedding favors.
     For all "in memory of" and "in honor of" donations, NJSOCF will send a card by return mail to the family or individual mentioned. The donor will receive a separate acknowledgement card mentioning the specific amount of the gift for tax purposes.
All checks should be made payable to: NJSO Cystic Fibrosis.
UNITED WAY
     Employees that participate in the United Way payroll deduction program at work can designate their contributions 100% to NJSOCF. If no designation is made, each contribution is divided among the many organizations the United Way helps support. If you wish to contribute your United Way dollars 100% to us, fill out the forms provided by your United Way representative at work. You can request a form if one has not been provided. The United Way has had this policy for many years and will be happy to assist you in directing your donation to the organization of your choice.
MATCHING GIFTS
     Many medium-sized and large companies offer a matching gift program. Your employer will match your personal tax-deductible donation to NJSOCF with an equal amount of company funds. If this program is in place at your workplace you will automatically double any contribution you make to NJSOCF, so please see your human resources manager for details.
GIFTS THROUGH WILLS
Make a bequest or estate gift and you will help ensure the future of NJSOCF.
GIFTS THROUGH STOCKS or BONDS
     You can support NJSOCF by transferring securities from your investment portfolio to the organization and receive a tax deduction for the market value of the securities.
Board Member David Kalb says:
"Send CF Holiday Cards this year!"
Are you a businessman or woman who is NOT looking forward to your annual Holiday card duties? If so, read what NJSOCF board member David Kalb has to say about using NJSOCF cards to show your holiday spirit while making a donation in each of your clients' names. (And NJSOCF will do all of the work!)
About six years ago I was in a pinch to get out holiday cards for my company. I didn't have the time to get the "right" card to express what my partner and I wanted to convey. NJSOCF was already sending out tribute cards to some of our clients from time to time. Each card said that a donation had been made in their honor. My clients really appreciated it and told me that the tribute made them feel very special.
All you need to do is call NJSOCF and send them your list of names and addresses, They will send a p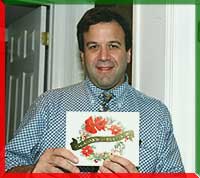 ersonalized holiday greeting card to each name on your list, letting the recipient know that a donation has been made in their name to support NJSOCF. YOU are responsible for making a contribution of $5 a card that will allow you to build good will while helping cystic fibrosis children and adults.
When you think about how much time you spend as a business owner buying, signing, and sending each card, $5 sounds pretty good. And you are making a tax-deductible donation to a great organization.
So, if you own or run a business, what better way to demonstrate the holiday spirit then to make a $5 donation in each of your clients' names? And don't forget family and friends!
Call NJSOCF today at (973) 595-1232 so they can get going on your list. I already have!
*NOTE – NJSOCF will not solicit your names. Your list will be kept completely confidential.