LISTEN TO DEBBIE DUHAIME
Board Member Debbie DuHaime talks about the importance of the New Jersey State Organization of Cystic Fibrosis. This sound bite is from STAR 99.1 FM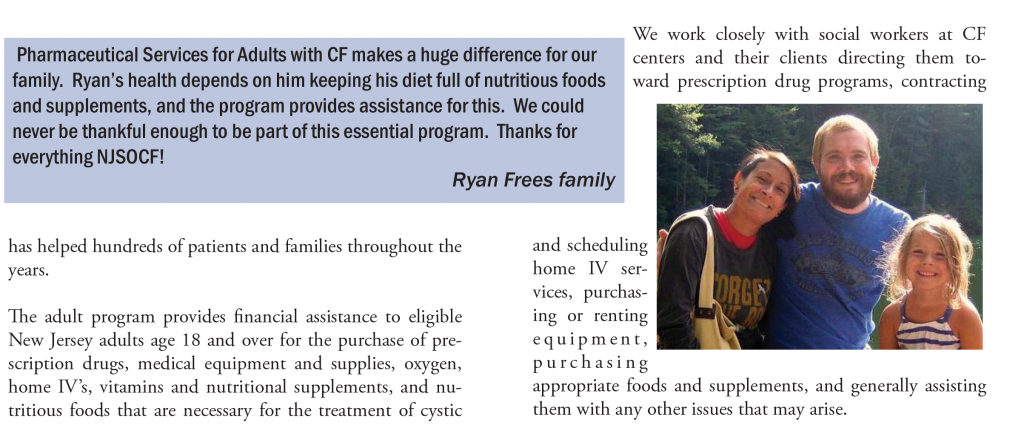 George, have we thanked you lately?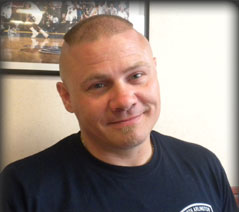 George McDermott: Supporting NJSOCF and others for almost two decades
"I get satisfaction from helping those that have helped me," said 41 year old George McDermott of North Arlington. "I believe in Karma. If you help people, when you are in need, they will help you. Even if I meet someone only once in my life and do something to help them, I believe the positive effect will spread through them to others.  "With that philosophy in mind, George has been helping NJSOCF as a volunteer and fundraiser for more than 15 years.
 Tough start
George was diagnosed with cystic fibrosis as a child and given up for adoption. He went through a series of foster homes before being adopted in 1977 by a family in Kearny.
He suffered through a very tough period in his teens when he was diagnosed with diabetes at age 16, an emotional "double whammy."
"I then moved out at 18, went from apartment to apartment, working off and on in shops, and finally wound up sleeping in an abandoned commercial building in a nearby town. At this point, something clicked and I finally gave up feeling sorry for myself and made a pledge not to let having CF ruin my life."
Better times
George married and then later divorced after having twin girls, Brianna and Cheyenne, now thirteen. During his marriage his life took a permanent turn for the better when he became a certified EMT and police dispatcher for the North Arlington police department. Because of his EMT training he is also on the department's SWAT team as a medic.
George got involved with NJSOCF in the mid-nineties. "I first spoke to their founder Estelle Sikkema and she became like a second mother to me," he said. "She went out of her way to do whatever she could for me and I will be forever in her debt."
Over the years, George showed his gratitude to NJSOCF by becoming one the organization's most loyal volunteers and fundraisers, helping out with special events and mounting one of his own, the annual "Bowling for CF Awareness," set this year for November 5.
"This is the least I can do," said George. "I love volunteering in the community and especially for NJSOCF. Helping others is something I always intend to do. And I hope that when I am in need, someone will show me the kindness and help I have given others. I truly believe the saying 'What goes around comes around."
Kristin Vaneekhoven runs Philadelphia Marathon
to raise funds for CF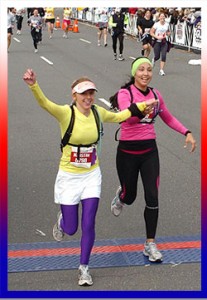 Kristin Vaneekhoven joined thousands of other athletes in last November's Philadelphia Marathon, but her commitment was not just to complete the demanding 26.2 mile course but to something she believes is equally important – helping NJSOCF provide direct support and assistance to patients throughout the state.
Ms. Vaneekhoven called her effort the "Marathon to Breathe," enlisted the support of many contributors and succeeded in raising $5,000 for the cause.
"This was very important to me because my husband Jon's three cousins – Megan, Jennifer and Stephanie Van Hise – all had CF," she said. "When we were first married, they welcomed me into the family with open arms and kind hearts. They made me feel like part of their family, sharing their warm smiles, contagious laughs, amazing friendship and unwavering love."
Ms. Vaneekhoven said over the years the three sisters "endured more difficult health issues as children and young adults than most of us will have to deal with in our lives." The "Marathon to Breathe" was her way of showing her love and support for them as well as helping others that must cope with living with the disorder.
Jessica Smith: Looking at the "Big Picture"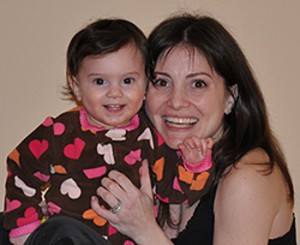 Jessica Smith and daughter Samantha
"It's extremely difficult to look at the big picture of your life when you don't know what lies ahead," said 30-year old Jessica Smith of Oradell. "It's hard to get past that, but I always try to focus on the healthy part of my life rather than the sick part."Jessica, who currently works for Morgan Stanley Smith Barney, grew up in Greenwich, Connecticut and was diagnosed with cystic fibrosis at the age of six months using a sweat test. "Unfortunately, my sister, Ashleigh, who was born two years later, had the same diagnosis," she said.Jessica and Ashleigh differed in the severity of the disorder."I had mainly gastrointestinal issues and was very thin, but felt pretty good until I was about 18," Jessica said. "Ashleigh was always very ill, with both pulmonary and GI symptoms throughout her life."
Coping
Jessica had her first serious bout with the disorder, requiring hospitalization, at 18. "I ended up getting very good care from a specialist in adult cystic fibrosis at Boston Children's Hospital," she said. "I recovered and went on to graduate from Brandeis University, majoring in economics."After graduating, Jessica felt well enough to work as a horse trainer and riding instructor for hunter and jumper competitions. "After doing this for a while, I met my husband David, a Jersey boy, got married and at age 25 moved over here," she said.Concentrating on living as normal a life a possible, Jessica became pregnant and had a daughter, Samantha, now a year and a half old."Thankfully, even though Samantha has the CF gene from me, she does not have the disorder because David is not a carrier," Jessica said.Jessica credits the New Jersey State Organization of Cystic Fibrosis with helping her cope financially with cystic fibrosis."We were having a very hard time, paying for prescription drugs and just getting by with life in general," she said. "I joined the adult program and got financial help. They have been absolutely wonderful to me."Jessica recently showed her appreciation to NJSOCF by serving as chairman of this year's Mother's Day Tea fundraiser.
Positive attitude
Jessica enjoys her work at Morgan Stanley. "I am a definite Type A and can't stay home," she said. "I need the mental stimulation that my job as a financial adviser gives me."Jessica said her boss at Morgan Stanley is "very understanding. I keep my CF quiet and he supports that approach," she said. "I go into the hospital twice a year and it is not a problem."
Coping successfully with CF is something Jessica traces back to her parents.  "They never told my sister and I we had CF until we were twelve," she said. "They wanted us to live our lives as normal children and I have continued that approach into adulthood. I never let CF be an excuse. That's why I had my daughter and why I get up and go to work every day."
Margaret Lapsanski
Some of you know the personal significance for me behind not only being able to have the capacity to run 13.1 miles, but also raising money for Cystic Fibrosis (CF). For those of you who may not, I'd appreciate you letting me explain a bit.
The Story:
Cystic Fibrosis currently affects only 33,000 out of the 304,000,000 people in the United States. It doesn't sound like a lot to you, does it? Well, that's part of the problem. CF is a rare disease that is currently without a cure and can use all the attention it can find in a world where it takes a backseat to diseases that affect a larger pool of people. The main donors of research funds are those who know someone with CF, or know someone who knows someone with CF.
When I was 3 months old, I was diagnosed with Cystic Fibrosis. CF is a progressive, genetic lung disorder that causes a thick, sticky mucous to be produced by the lungs. This is a perfect environment for bacteria growth and leads to recurrent lung infections and a multitude of other problems. Quickly put on a strict regimen of inhaled antibiotics and intense physical therapy (which consisted of my parents pounding on my back to shake loose the mucous in my lungs), I was able to experience a rather normal childhood. However, as I grew older I was troubled with recurrent pneumonias, other lung infections that were treated with courses of IV antibiotics, but which still caused permanent and irreversible lung damage.
By the time I reached the age of 20, my lungs were functioning at a mere 20% of normal capacity and I was on oxygen 24/7. I was told that without a Double Lung Transplant my chances for survival were bleak. After moving my family to New Orleans, a place where the donor list was the shortest, and waiting there for five months, my miracle came. In November of 2004, I was blessed with a second chance at life and received two new, healthy donor lungs.
Now over four years later, my new lungs are functioning at over 100%. I'm happy, healthy, and living life to the fullest! Every chance I get I try to make a tribute to the family who sacrificed at a time of their own tragedy for someone they did not know. Using my new lungs to run and raise money for Cystic Fibrosis is the best way that I can think to accomplish this.
It's time to raise money to help find a cure for this debilitating illness while also showing what a blessing organ donation can be in someone's life. What better way to do that than run 13.1 miles with a person who could not walk four feet without a struggle? And in the meantime, we can all get some exercise on a sun-soaked beachfront, have fun with friends and family, and make a difference in many lives.
Susan Pizzo: A "Blessed" Life
The love and support of her husband and son, a desire to lead her life "just like anyone else,"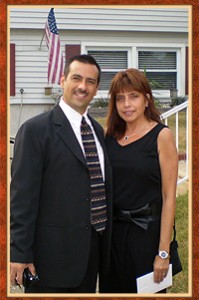 and a strong belief in God have enabled 45 year-old Susan Pizzo of Blackwood to maintain a positive attitude towards coping with cystic fibrosis.
"Fortunately, I have a fairly mild case and have never been terribly sick," she says. "But CF is something that has always been there in my life. I was diagnosed at birth and have received ongoing treatment but have never been hospitalized as a result of the disease."
Always active
Susan and her older sister Diane, who also had cystic fibrosis, grew up in a close-knit family in Philadelphia. "I always knew that I had to keep on top of the condition and have always been careful to take my antibiotics and eat a healthy, well-balanced diet," she said.
Susan attended South Philadelphia High School, graduated in 1979 and went to work at a local bank "feeling good."
"I was originally very interested in a career at the bank in loss prevention and security, but could never follow through with the special training because I had to take more than the normal amount of sick days due to occasional respiratory issues," she said.
"Despite that, I was always on the go and very busy, especially after I met and married my wonderful husband, Carmen in 1995, and became Mom to his son, Carmen, Jr. I got a double blessing."
Susan threw herself into work and family life, but at age 39, her doctor told her the time had come to slow down and start taking better care of herself.
Taking care
"At that point, I went to my boss at the bank and told her about my CF. She was very sympathetic but I said I didn't want a 'pity party.' She suggested that I cut back my hours and switch to duties as a teller."
Susan worked as a teller for a while and then the family decided to move to New Jersey. At that point, Susan decided the time had come to take it easy.
"Even though I absolutely hated the idea, I decided to apply for disability, first short term, then long. It turned out to be the right decision because my health has improved a lot and I feel so much better."
NJSOCF helps
Susan has been involved with the New Jersey State Organization of Cystic Fibrosis for about three years.
"The organization has helped our family so much," she said. "Thanks to their assistance with insurance co-pays, we can live comfortably. They also help with my food expenses. The stress they have taken from our lives is the answer to our prayers."
Susan first heard about NJSOCF and its programs of assistance from a social worker. "As soon as she described it, my eyes lit up," Susan says. "I signed up immediately and it has made such a difference in our lives."
Susan says that her faith in God, her husband and stepson, now 20 and involved in the ministry as a youth pastor in Lakeland, Florida, have sustained her over the years.
"I belong to a great church and have a wonderful, supportive family," she says. "I am surrounded by people that love and care for me and also draw strength from the Lord. I am truly blessed."
Marty Rittenberg: It's "a labor of love"
Long-time NJSOCF board member Marty Rittenberg of Wayne describes his volunteer work as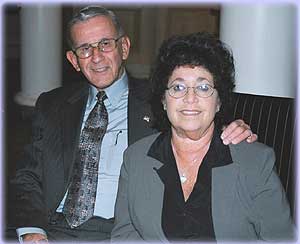 "a labor of love."
"I have been involved for about twelve years and think this is an organization with a unique and wonderful mission-providing direct financial assistance to those who need it most," he said.
Marty's awareness of the New Jersey State Organization of Cystic Fibrosis began with his son, Harris. "Even though he had CF, he lived life to the fullest," he says. "He was Senior Class President, a member of the Honor Society and was accepted to Columbia University before he passed on at the age of only 18, back in 1983."
Reflecting on the improvements in diagnosis and treatment for CF patients, Marty says he often wonders if that would have made a difference with his son. "Back then we went from doctor to doctor, not knowing what the problem was or what to do. Now things are so much different and better. Our daughter Mindy's two young children have been tested for CF and fortunately they are in the clear."
Marty joined our board after being contacted by NJSOCF founder Estelle Sikkema. "I couldn't refuse," he said. "NJSOCF is a unique organization, almost like a family. We have one event, our Fall Dinner and Fashion Show, which draws more than 400 people. That says it all.
Now NJSOCF Vice President and retired from a lifelong career as an educator on the public school and college level, Marty says he is totally committed to The New Jersey State Organization of Cystic Fibrosis: "The work they do is so necessary and the services they provide so badly needed, there is no way I am not going to continue to do my very best on their behalf."
Debbie Ravettine
AGAINST ALL ODDS
Debbie Ravettine, a 44 year-old suburban wife and mother of two, and a resident of Mahwah, has overcome tremendous odds in her life. She says that with faith, determination and the love and support of her family and friends she will continue to do so.
Debbie is one of a minority of CF patients to ever become a mother. She treasures the role and her lifestyle, which is typical for many women, but almost miraculous for her.
New direction
Floundering for a direction in life, Debbie dropped out of school, tried several different jobs and then met her husband, Peter, when she was 26. "We fell in love, but I didn't want to marry him, for obvious reasons. I knew that having CF made having children difficult and he wanted a family. But he convinced me to try and thank God, I did. Here I am now, 17 years married with not one, but two beautiful children."
Debbie says that at the time of her marriage, the odds against completing a pregnancy were very high. "I was told that I couldn't get pregnant. I was told that if I did I should have an abortion or I would die. Everything was very negative."
But within the first few years of marriage, Debbie was pregnant and had her first child, her "miracle baby," Bryeanne in 1991.
"I was amazed when I found out that I was expecting and even more amazed that I gained 50 lbs, going from 104 to 154 during an uneventful pregnancy," she says. Encouraged by their success, Debbie and Peter tried for another baby and had their second daughter, Rachael, three years later. The girls are now 14 and 11 and Debbie is happily immersed in home and school activities.
"My attitude is that God will not give me more than I can handle," she says. "I have a wonderful husband and two great children and I am going to do the very best I can."
Debbie says that she stays actively involved on several fronts and uses home treatment for cystic fibrosis as much as possible. "Home care, including IV's, has been great," she says. "It keeps me out of the hospital, even though I do have to check in from time to time for special lung-clearing procedures."
NJSOCF helps
Debbie relies on the NJSOCF's adult program to help with some of the costs related to her treatment. "I am currently on their adult program," she says. "We are currently spending about $100,000 a year on the home IV's, prescription medication, nutritional supplements, extra food for me, and other therapy. Even with insurance, it's just so expensive and the adult program really helps."
The prospect of insurance cutbacks or changes is always in the back of Debbie's mind. "Peter has a good job in the computer industry, but you just never know in today's health care world what is going to happen," she says. "NJSOCF is a great source of security. It's nice to know that they are there as a backup for us."
Debbie says that she is determined to continue to live her life to the fullest. "After all, I was supposed to have been long gone by now," she says. "I have a family and wonderful friends and I am going to live. I have beaten the odds and proved a lot of experts wrong. I will continue."