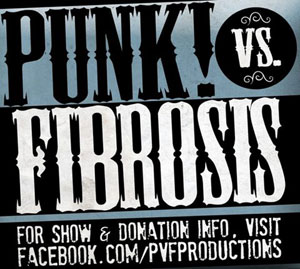 Punk! vs. Fibrosis uses music to help fight
Cystic Fibrosis
Raising money for charity is not high on the list of most punk rock promoters and concert organizers, but Michael Normann is the exception.
For the past few years Mike, who runs his own promotion company, has raised money for several different groups, including NJSOCF, through Punk! vs. Fibrosis.
"Our company, which got its start in New Jersey and is now based in Orange County, New York, books punk/hardcore shows, local and touring bands," he said.
"My cousin, Steve Sileo, passed away at the age of 23 back in 2008 after struggling with cystic fibrosis his entire life. We wanted to do something to help raise money for CF, so in 2009 we booked a memorial show for Steve and donated 100% of the proceeds.
"At the time we didn't plan on booking any more shows, but after the positive response we just kept running with it."
Today, whenever Mike mounts a financially successful show, he donates a portion of the proceeds to charity and has included the New Jersey State Organization of Cystic Fibrosis in his generosity.
"Not every show makes money due to expenses like bands, venues, sound and other items, but when things go well, we make sure to donate as much as possible. We just had our three year anniversary show, which had a good turnout."
Using his musical connections to raise money for charity is something Mike said gives him a lot of satisfaction, "I really enjoy it," he said. "It all started with Steve and just kept on going. NJSOCF used to personally assist my cousin so it means a lot to me to give back to them."
For more information about Mike and Punk! vs. Fibrosis visit facebook.com/pvfproductions; twitter.com/punkvsfibrosis; or email: punkvsfibrosis@yahoo.com.