Susan Pizzo Turns 50!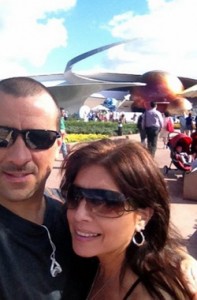 "I feel awesome! I feel wonderful! I am one of the luckiest women in the world and am truly blessed."So said Blackwood's Susan Pizzo, remarking on the occasion of turning 50 earlier this year.
Diagnosed as a baby, Susan said she was lucky to have a mild form of CF.
"I never had a bad lung infection and was never hospitalized while growing up in South Philadelphia," she said. "Actually I was kind of a tomboy, playing sports and always very active. I also loved dancing."
Susan said she just "did what she had to do" to cope with CF, mostly not focusing on it and just going on with her life.
"I met and married a wonderful man, Carmen, and we raised his son Carmen, Jr. now 24," she said. "Throughout my life I have had a great family, dear friends and a wonderful support system. I worked for 13 years at a bank, but am now at home, taking good care of myself."
To celebrate "The Big 5-0," Susan's parents sent she and Carmen to Disney World, with the finest accommodations. "It was a wonderful trip," she said. "We also had an extended family dinner at Maggiano's restaurant in Cherry Hill. "We were picked up in a white stretch limousine and driven to the restaurant. I felt like a celebrity and it's an evening I will never forget."
Susan said she never felt better than she does now. "I do my nebulizer treatments three times a day, but I know it's a cakewalk compared to what others have to do. I give my thanks to God. He is awesome!"